You may have seen the words 'Kickstart scheme' eagerly entering the work dynamic, but what does it actually mean?
The kickstart scheme is a low risk option for employers as it is funded by the government due to a £2billion fund that has been set up. The government will pay the kickstarters (young employee) salary at a minimum wage and for up to 25 hours per week in addition to NI and pension contributions, anything above this criteria will have to be funded by the employer. The scheme has been introduced to help young people between 16-24 in to work that are currently on universal credit, all be it each placement will last for only six months. However for employers using the kickstart scheme enables them to identify potential future employees from the cohort to advance them to either a full-time job or enrol them onto an apprenticeship job with the employer.
The 6 month placements are open to those aged 16-24 who are claiming Universal Credit and are at risk of long term unemployment. They are available across a range of different sectors in England, Scotland and Wales. There is also extra funding available to support young people to build their experience and help them move into sustained employment after they have completed their Kickstart funded job.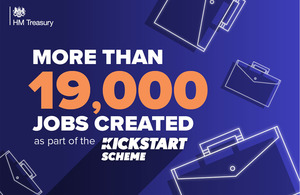 So far the Kickstart scheme has hugely successful in fact it has already created over 19,000 jobs for young people and has been over subscribed by employers totalling more than 4,000 applications from employers across England, Scotland and Wales.
For more information and to find guidance as an employer about how you can help kickstart someones career please visit the government website. Kickstart Scheme.